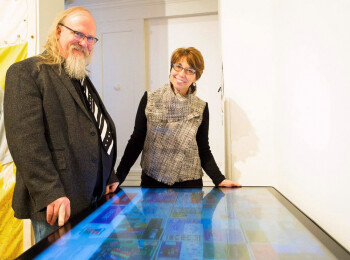 The AIDS Memorial Quilt began in 1985 with a few people who wanted to ensure that their loved ones who had died from AIDS would be remembered. Thirty-five years later, a technology project spearheaded by leaders of the
School of Arts, Technology, and Emerging Communication
(ATEC) at The University of Texas at Dallas enables people all over the world to view the panels of those who are memorialized in the quilt.
The
AIDS Memorial Quilt
, now part of the National AIDS Memorial in San Francisco, is a 54-ton tapestry that includes more than 48,000 panels dedicated to more than 100,000 individuals. It remains a symbol of the AIDS pandemic — a memorial to those who died from AIDS — and an HIV-prevention education tool. The quilt is considered the largest community arts project in history.
Because of its size — it would take more than 50 miles to display — the quilt no longer can be shown in one location. However, an interactive application called AIDS Quilt Touch offers users the ability to digitally search and view the quilt.  Before they joined UT Dallas,
Dr. Anne Balsamo
, ATEC dean, and
Dale MacDonald
, ATEC associate dean of research and creative technologies, received funding from the National Endowment for the Humanities in 2011 to create the beta version of the application.