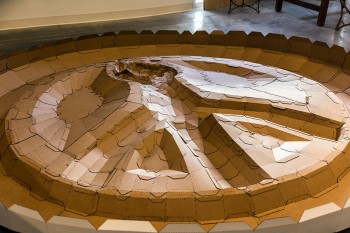 By now, visitors to the
Edith O'Donnell Arts and Technology Building
have grown used to seeing an alternating set of distinctive, cardboard sculptures strewn across all corners of the first floor.
Angular renderings of mermaids, chess knights, masks and an array of abstract forms provide a jolt of creative panache for passers-by. It's all courtesy of the 3-D Studio and Digital Fabrication Lab led by
Professor Andrew F. Scott
at UT Dallas.
Stepping into the lab, visitors are met with a workspace in constant motion. At the moment, graduate students are buckling down — weaving their way through a series of tall, steel frames and multiple piles of broad cardboard panels. Scott and his team are in the homestretch of wrapping up a massive undertaking: a relief sculpture that will serve as the interactive backdrop for an upcoming
Terence Blanchard concert
.